When many people hear the word "asbestos" they immediately become wary—and with good reason. Used for insulation and as a fire retardant in many older building materials, asbestos can cause serious health problems when the fibers are inhaled. If your home or business contains asbestos, professional asbestos abatement services are necessary to ensure a safe living and working environment. KEM Environmental Solutions provides licensed, safe asbestos removal services, and we're here to help ensure your residential or commercial property provides the healthy conditions you deserve. Call now to get started on your asbestos mitigation project!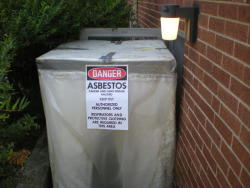 The diseases associated with prolonged exposure to asbestos include:
Cancer (specifically mesothelioma)
Lung impairment
Skin problems known as asbestos warts
Asbestosis
And a variety of other serious ailments
For effective elimination of this dangerous toxin, it is important to contact a professional asbestos removal company. The asbestos removal services team at KEM Environmental Solutions has the experience, skills, and tools necessary to ensure that your building is as safe as possible. Our experts will take all necessary precautions to protect both ourselves and your family or employees while we perform asbestos abatement services.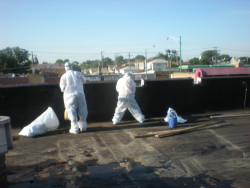 Our technicians understand that each property requires a customized approach to asbestos abatement service. We will assess your situation and come up with the most efficient way to safely perform the task. Whether you need asbestos removal service in a small house or a large industrial building, you will receive the same quality results.
In addition to providing Chicago-area homes and businesses with safe asbestos removal services, we can also educate our customers on the government regulations regarding asbestos. When you trust KEM Environmental Solutions for your asbestos removal service, you will know that your building is in complete legal compliance. And don't forget, asbestos abatement services can also potentially increase the value of your property and make the building more desirable for potential buyers.
For an asbestos removal company that will provide you with fast, effective results, call KEM Environmental Solutions, LLC, today. We are fully licensed, bonded, and insured, and our professionals have more than two decades of experience providing asbestos abatement service. Call today to learn more about how asbestos removal can benefit your home or business. Free estimates and emergency services are available for your convenience.