Interior improvements can turn even the dullest property into a stylish, modern home or commercial space. At KEM Environmental Solutions, our interior demolition contractors can help you get started. Whether you've recently bought a fixer-upper and plan on making serious renovations, or you just want a major change, we have the tools and experience to bring you safe, efficient demolition services. Unlike many demolition contractors, KEM Environmental has the expertise and skills to perform complete interior gut jobs, and our professionals can handle large-scale retail, office, and residential interior demolition projects.
Our construction demolition services include the removal of:
Walls
Counters
Windows
Cabinets
And more!
So if you're in need of non-structural demolition services, we're here to help. Call KEM Environmental Solutions to learn more today!
Why Hire a Professional Demolition Service?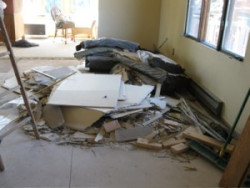 Many people don't understand why one would require a demolition contractor to simply destroy property. The fact is that commercial and home demolition projects are often more difficult and complicated than they appear. A demolition contractor can help ensure that customers enjoy:
Safety: Trying to perform demolition yourself can result in a variety of injuries, from overexerting your muscles while swinging a sledgehammer to being hit by falling debris. Our demolition service team has the skills, tools, and training to get the job done without incident.
Efficiency: An efficient construction demolition process means that the work is done quicker, facilitating the faster completion of your project. Your demolition contractor will examine the structure you need gutted and determine the best way to approach the project so you can enjoy quick results.
Convenience: Do you really want to take time out of your busy life to obliterate cabinets? KEM Environmental Solutions can perform construction demolition and cleanup so you don't have to.
Let the team at KEM Environmental Solutions help you transform your home or business! Our more than two decades of experience makes us stand out from all of the other demolition companies out there. If you require commercial or home demolition service in the Chicago area, KEM Environmental Solutions is the name to know. Offering the professional expertise you can rely on for safety, efficiency, and skill when it comes to gutting a basement, home, office, or retail space, our team can help you get the job done right. We are available to provide free estimates and emergency services, and our demolition company is fully licensed, bonded, and insured. Call today for the professional demolition of concrete, wood, and more!
KEM Environmental Solutions, LLC, does not currently provide demolition services for entire buildings, such as houses or sheds. We apologize for any inconvenience. We perform interior demolition only and are available for large-scale projects like complete tear-outs or property guts.