Although mold is most persistent in environments with high moisture and humidity, any building is a potential host for this unwelcome guest. Mold not only looks bad, but it can also have detrimental effects on your property value and human health. If you suspect that your home or commercial space might be contaminated, call KEM Environmental Solutions immediately to arrange for a professional mold cleanup.
Some signs that your building may require mold remediation include: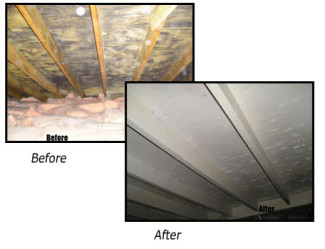 Stains or visible mold (may be brown, yellow, or greenish-black)
Rotting wood
Musty odors
Bulging or warped walls or ceilings
Our specialists will first isolate the contaminated area to prevent the further spread of mold spores and then begin the mold removal process. Each job differs depending on the specifics of the mold issue, but common mold remediation techniques include:
Removing all materials contaminated beyond repair
Spraying deodorizer and anti-fungal agents
Unlike other mold companies, we can also put down a mold-resistant coating to help prevent mold regrowth. KEM Environmental Solutions will:
Build a mold containment enclosure consisting of hanging 4 mil plastic sheeting around the entire affected area.
Connect the enclosure to a negative air machine. This system creates negative air pressure inside the enclosed area, effectively preventing any air leaks (and spread of mold). The air is cleaned and exhausted outside.
Cut and remove drywall and insulation. These contaminated materials are placed in tightly sealed bags for your safety and then disposed of properly.
Spray the contaminated joists, sheathing, and other wooden structural elements with an EPA-registered disinfectant. These areas will be scrubbed with brushes and then wiped dry.
Cover the problem area with an EPA-registered mold-resistant coating to help keep the mold from returning.
Thoroughly clean up the enclosure and then remove the containment equipment.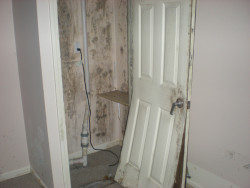 Contamination that is not quickly brought in check by a mold specialist is more difficult and therefore more expensive to clean. It is important to call in a mold removal professional as soon as mold is detected. Putting off the removal of mold could wind up causing permanent damage to your property. Long periods of mold exposure can also result in respiratory problems, brain damage, and cancer. While some types of mold are more dangerous than others, it is always better to be safe than sorry. Don't waste precious time trying to identify the mold that's been eating away at your drywall. KEM Environmental Solutions, LLC, provides black mold removal, mildew mold removal, and more. Our professionals can completely and correctly remove just about any type of mold from your home or office.
Don't trust the over-the-counter mold cleanup products that only provide a surface cleaning. For the best results, choose the mold removal company with more than two decades of field experience. We have the tools, techniques, and training to leave your home or business completely mold free.
Located in Oak Lawn, KEM Environmental Solutions proudly serves residential and commercial customers in the Chicago metro area. Call today to speak to a mold specialist and to receive a free estimate.