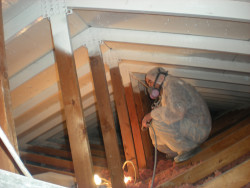 KEM Environmental Solutions, LLC, can help you transform an unsafe or unsuitable building into a place you'll be proud to call your own. Our technicians specialize in interior demolition services (counters, walls, etc.), mold remediation, and asbestos removal services. Whether you need a demolition contractor to knock down a wall or have recently discovered that your older structure requires asbestos abatement services, we're here to help. Have questions? Just call or e-mail our team now for additional information!
Our services can mean vast improvements for your property including:
Health: It is no secret that mold and asbestos are linked to a variety of serious diseases, such as asthma and certain cancers. If you know that your home or business was constructed with asbestos, or if you have recently discovered mold on your property, call KEM Environmental Solutions today. Quick mold removal and asbestos abatement services are critical preventative measures when it comes to safeguarding your long-term health.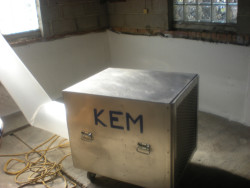 Increased property value: Let's face it. A building troubled by mold or asbestos is unattractive and undesirable and can send your overall property value down into the dumps. Luckily, these situations are reversible. Black mold removal and asbestos abatement services can make your property more valuable and easier to sell as well as help provide a better living and working environment.
Remodeling: Do you want a demolition contractor to help you take down those ugly, outdated cabinets, or knock out an inconvenient wall? KEM Environmental Solutions' interior demolition services can help you make your building be all you want it to be.
For safe, reliable results, mold and asbestos removal and demolition services should only be performed by trained professionals like the staff at KEM Environmental Solutions, LLC. All too often, amateurs make mistakes like mishandling asbestos or missing a patch of mold. Our specialists have the experience to get the job done right the first time, and we always adhere to local building and health codes when completing each job. Save yourself trouble and money: call today for construction demolition and more.
In addition to professional-quality workmanship, our customers can expect:
Free estimates
Emergency services
Experienced staff
Respect for your property
Prompt arrival and efficient service
Our technicians are fully bonded, licensed, and insured, and we have more than two decades of experience performing mold remediation, asbestos abatement, and demolition services for residential and commercial customers. If you have a vision for your kitchen or want to get fast mold cleanup for a healthier home, call today!